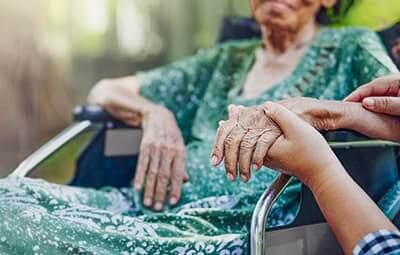 Whether you are caring for a parent, relative, or other loved one, you might find that you occasionally need extra help. Maybe you are taking a trip or unexpectedly are going away for a few days, or your loved one has an upcoming medical procedure and will need more help during their recovery. At Lakeside At Mallard Landing, we provide senior respite care for seniors who need a short-term stay in our senior living community. You'll find all the benefits and amenities of our Salisbury location in our senior respite care living program as well as the peace of mind of knowing that your loved one is in good hands.
Learn more about our senior respite care program by reaching out to Lakeside At Mallard Landing today at 443.331.5427.
Compassionate, Short-Term Senior Care
In our senior respite care program, you'll find quality compassionate, short-term care for your loved one and quality relief for you.
Getting respite care for a loved one is often important for a caregiver's health and their ability to continue to provide care for their loved ones. With our respite care program, we make it easy and worry-free for you. If your loved one needs extra assistance when recovering from illness or surgery, or you simply need a break and short-term support, we are here for you. Let our compassionate respite care program provide the help you need.
What is included in our senior respite care living home in Salisbury, MD? You'll find the following in our program:
Safe and secure location in a controlled environment
Fully-furnished sleeping accommodations
Three daily nutritious meals, along with snacks and beverages
Professional team onsite 24/7
Medication administration
Assistance with dressing, bathing, grooming, and incontinence, as needed
Arrangement for additional rehab services
Fun and engaging activities available seven days a week
Our goal is to make our senior respite care home in Salisbury, MD feel like home. Your loved one will feel comfortable and supported during their stay.
The Benefits of Senior Respite Care
Even if you're familiar with the services a senior living community provides, you might not know what senior respite care entails. These programs involve short-term stays in a senior living community. These stays might take place while a caregiver is away or otherwise unable to care for their loved one. Or, some seniors choose respite care while recovering from a surgery or other medical procedure, during which they might need extra care.
In senior respite care programs, residents have access to all of the amenities of the senior living community. These might include upscale dining options, group activities, movie nights, outings to stores, and assisted living services.
Caregiving can be a full-time job. However, senior respite care offers you a chance to come back to caring for your loved one with renewed energy. At Lakeside At Mallard Landing, you'll have peace of mind while away. Your loved one will be cared for by our trained, experienced staff members.
To learn more about our senior respite care living home in Salisbury, MD, reach out today at 443.331.5427.
Contact Lakeside At Mallard Landing Today
As a caregiver, your health is important. Although providing long-term care can be stressful, taking a break to rest and relax can help you be a better caregiver over time. At Lakeside At Mallard Landing, your loved one will enjoy their stay in our beautiful, comfortable location. Our specially trained team will make sure they feel at home while taking care of their every need.
Please talk to your Senior Lifestyle Counselor for respite policy guidelines. Contact us today at 443.331.5427 to learn more.